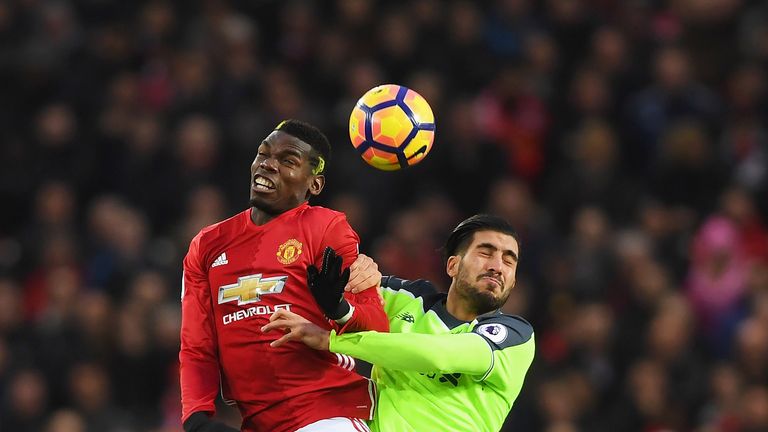 Manchester United saw their winning streak come to an end as they were held to a 1-1 draw by Liverpool. It was the away side that took the lead after a handball given away by Paul Pogba. James Milner made no mistake from the spot but that was the cue for United to put on some pressure.
The Red Devils tried to break down the away side and were rewarded when Zlatan Ibrahimovic swivelled to knock in a header in the 84th minute. The draw didn't help either side as United now are 12 points behind leaders Chelsea.
United could and should have taken the lead in the first half but Simon Mignolet did really well to keep the home side out. With both sides having to settle for a point and a lot being said about Klopp's talk of "long ball United", we provide the best Twitter reactions from the game at Old Trafford.
Manchester United lost just 1 of their last 29 games at OT in all competitions: WWWWDDWWWDWWLWWDWWDDWDWWWWWWD Goals: 59 [Squawka] #MUFC

— Manchester United (@ManUtdUpdates_) January 15, 2017
Draw at Anfield – Jose parked bus, got lucky.

Draw at Old Trafford – Klopp tactical masterclass, United got lucky.

Sky's scouse love in.

— Niall (@Niall_84) January 15, 2017
Fellaini changed the game today.But don't expect United fans to acknowledge it.They are waiting to rage next time he gives a throw-in away

— Babanla (@biolakazeem) January 15, 2017
Mourinho's United drawing 1-1 getting more attention from journos than what Pep's City are for losing 4-0. What a surprise

— SJ (@sarahjayneeee_) January 15, 2017
Rio Ferdinand's reaction the Zlatan Ibrahimovic's goal! #MUFC

— United Report (@ManUtdReport_) January 15, 2017
Manchester United were woeful today and still Liverpool needed a gift to get anything from the game.

— The Football Terrace (@TheFootballTerr) January 15, 2017
I give you my energy pic.twitter.com/ilN2iAPLqT

— ⚪️⚫️ (@UnitedMansion) January 15, 2017
When you ask Pogba what position Manchester United is on the premier league pic.twitter.com/GZQU9N1WKn

— Its Gitz Bruh! (@iGitz_) January 15, 2017
TV: "When United were coming on stronger in the second half…"
Klopp, interrupting: "With long balls…"

— Jim Boardman (@JimBoardman) January 15, 2017
Klopp taking about united playing long balls. United long ball % = 20%, Liverpool = 19%. Absolute cock

— Jamie (@Jamieladc) January 15, 2017