5 Transfers That Could Have Happened This Window
It's that time of the year again. The protracted transfer sagas start to quieten and Premier League squads have been submitted, the summer transfer window is well and truly closed. It's now time for teams to let their transfer business do the talking on the pitch.
With a reinforced attack, Manchester United failed to bolster other areas, and with an attack for that makes defences quiver in their boots already, neighbours Manchester City failed to offload all of their deadwood. Whilst on the other hand, out of the top four Chelsea have managed a net spend of roughly £8million, a hefty uklotto jackpot total, but nowhere near the net spend of their fierce rivals Arsenal and Liverpool.
Speaking of which, the two aforementioned teams have a lot to prove this year. Liverpool will be looking to build up on last year's success and win their first league title in nearly 30 years, a hard task especially after the £75million (an even heftier jackpot total) loss of super striker/biter Luis Suarez. Arsenal on the other hand will look to defend their honour in the FA Cup in January after winning it last season, and will hope that the signings of Sanchez, Chambers, Debuchy, Ospina and Welbeck can lead the Gunners to further glory.
With all that said and done, we all feel that Basingstoke signing Ronaldinho would go down as the top transfer of this window. But it's most likely to not happen.
Here are a few transfer sagas that got us going this summer…
Loic Remy to Liverpool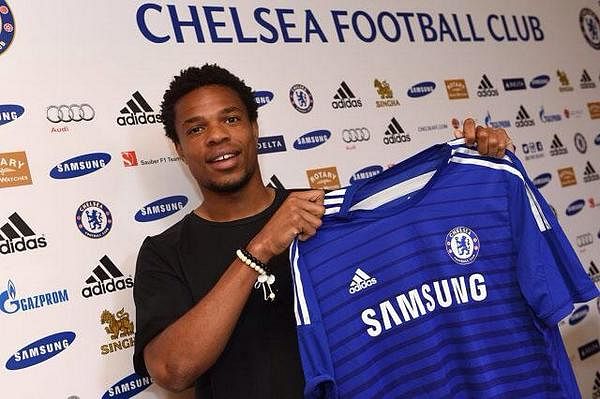 A few weeks after the big split from Luis Suarez, Liverpool were back out there, head up high, tears all dried up and ready to find a new man in their life. They thought that man was Loic Remy: strong, quick, a real leader of the line. But just like all good things in our lives, this transfer came to a surprise climax, during his medical – of all things. A failed medical saw the France striker sent back to QPR. Remy is now happy with his new man Jose at Chelsea FC.
Arturo Vidal to Manchester United
The man with, what seems to be, a thousand tattoos. One of them, a Michael Jordan tattoo on his neck. Nevertheless, our mohawked midfield maestro had been linked with a move to the Red Devils since, what feels like, the days of Adam & Eve. Sadly it's only words, and words are all we got from this protracted transfer saga as the  27-year-old Chilean's knee injuries put Manchester United off signing him. Then again, at least he'll still be able to play Champions League football with Juventus this season.
Radamel Falcao/Edison Cavani to Liverpool
"A club desperate to sign a big name striker. Two strikers seemingly eager to get out of Ligue 1." Seems like the perfect plot for a movie based on soccer transfer sagas. You probably could have called it, "The Great French Escape", with the end resulting in both players signing for LFC. Although if one of these transfers had actually gone through, Liverpool fans would have imploded. Thank God they signed Balotelli instead.
Mario Balotelli to Arsenal
Speaking of which, the controversial Italian striker was earmarked for a return to the Premier League much earlier than the final days of the transfer window. He was also reported to be heading to north London and not north England. Scheduling eh?
Dirk Kuyt to Manchester United
This one probably slipped under the radar. Apparently Louis van Gaal was so impressed with the former Kop star's work rate during the World Cup that he saw him as the perfect fit for his new look Manchester United. And although he is a workhorse on the pitch, Dirk Kuyt's work hardly amounts to much somehow gaining him the reputation of 'the guy at the party that's just happy to be there'. A big shame really.
Transfer News: Man United target in-form PL stars to bolster midfield department
Maddison and Grealish earmarked to bring life to Man United's midfield
Manchester United are intent on bolstering their midfield in the January transfer window, with  James Maddison and Jack Grealish being the prime targets. (h/t Daily Mail)
Scott McTominay was out injured and Paul Pogba continues to struggle with an ankle injury. This forced Ole Gunnar Solskjaer to play an out of form Jesse Lingard as the attacking midfielder.
The player's performance came in for a lot of flak from the United faithful, who were vocal about their displeasure at the player's performance. With the 27-year-old out of sorts, bringing an attacking midfielder in the window has become imperative.
Tottenham's Christian Eriksen was initially touted as a target, but with Spurs choosing to cash in on the player, the Dane looks to be on his way to Inter Milan. (h/t Daily Mail)
With Eriksen seemingly out of the picture, Leicester City's James Maddison and Aston Villa's Jack Grealish have emerged as top prospects. Both Englishmen have been in fine form this season. Maddison has scored 9 goals and 3 assists in 23 appearances whereas Grealish has 8 goals and 6 assists in 21 games.
Both these players have considerably outdone United's existing options by a wide margin. Either of the additions will add a new dynamic to the United midfield, with a Champions League spot still for grabs.
Lack of cutting edge?
United are currently 5th in the table and have been woefully inconsistent this season. The Red Devils haven't been able to take advantage of Chelsea's slip-ups. A dynamic new signing that can add drive to the midfield will help going forward this season.
More Manchester United News
With Andreas Pereira and Juan Mata lacking the necessary quality, the current midfield lacks imagination and drive. The right addition can make all the difference this season with a little less than half the season left to play.